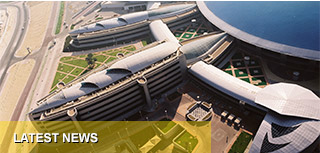 News
New Concrete Technology Lays Foundation for Green Building Techniques
04 January 2016

Perth, 04 January 2016 – Clough Limited is pleased to announce that Clough AMEC has been awarded a new three year contract with ConocoPhillips in Australia, to provide asset support, operations and maintenance services to the Bayu-Undan offshore field development, located in the Timor Sea.

Henry Laas, Group Chief Executive, Murray & Roberts comments: "We are pleased to continue our relationship with ConocoPhillips on the Bayu-Undan project, especially as it further strengthens our experience in the asset support, operations and maintenance sectors. These sectors are set to offer many new opportunities for contractors in Australasia in the short to medium term."

The Bayu-Undan offshore facilities consist of a floating storage and offloading facility and three fixed platforms, a remote wellhead platform and a compression, utilities and quarters platform (CUQ) and a drilling, production and processing platform. The latter two are located adjacent to each other and linked by an access bridge, forming the Central Production and Processing Complex.

Clough AMEC is a 50/50 joint venture that has provided asset integrity management and implementation services support to these facilities since July 2004.