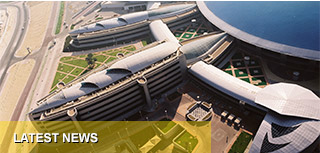 News
Murray & Roberts Cementation offers assistance to Vantage Goldfields' Lily Mine
19 February 2016

19 February 2016, Barberton – Murray & Roberts Cementation visited the Lily Mine near Barberton yesterday and met with senior management of Vantage Goldfields to discuss their offer of assistance with the search and recovery operations.

Murray & Roberts in 2010 played a part in the rescue of 33 Chilean miners that were trapped in an underground mine. It confirmed that the Lily Mine incident is not comparable to what happened in Chile and that the rescue methodology used in Chile could not be applied at the Lily Mine.

It appears as if this incident resulted from a pillar failure in the underground mine, below previous opencast mine workings. This failure created a large sinkhole to develop and a container lamproom that was positioned on surface, disappeared into the sinkhole. Murray & Roberts Cementation's expertise is not in bulk surface excavations and due to slope instability and ongoing slope failures, it is not possible to undertake rescue operations from surface.

The establishment of a shaft in a stable geological area, from surface to the underground mine workings and away from the collapsed site, is currently considered as the best option to create a second access point into the underground mine, which is a statutory requirement to facilitate the safe continuation of search and recovery operations .

Murray & Roberts Cementation are in the process of evaluating a potential raise drilling solution for the abovementioned shaft, with Vantage Goldfields.