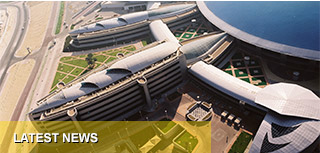 News
Transport and freight logistics researcher wins the 2015 JD Roberts Award
27 July 2015

Johannesburg, 23 July 2015 - The 2015 JD Roberts Award for Emerging Researchers was presented to Dr Jacomine Grobler at a ceremony hosted by Murray & Roberts in Bedfordview.

The runner-up finalists were Julius Komba and Vhahangwele Masindi.

Dr Grobler leads the Transport and Freight Logistics Research Group at the Council for Scientific and Industrial Research (CSIR) and was nominated for her contribution to the development of mathematical models and optimisation algorithms for solving industrial engineering problems.

Dr Grobler's accomplishments include the development of a multi-objective algorithm for a complex real-world production scheduling problem. The algorithms she developed were shown to outperform existing state-of-the-art algorithms by up to 76%, resulting in a significant decrease in manufacturing and algorithm development costs.

Julius Komba's research focuses on road design, advanced evaluation of road construction materials and monitoring the long-term performance of roads. He is also involved in the implementation of High Modulus Asphalt in South Africa and has participated in the evaluation of innovative road products including Ultra-Thin Frictional Course bituminous road surfacing.

Vhahangwele Masindi has developed acid mine drainage treatment technology with a patent filed in the United States, Canada and Argentina. His areas of research include waste water chemistry and treatment, acidic mine waste remediation and mine tailings rehabilitation. He has worked in infection control, wastewater treatment and the production of composites for clearing contaminated water environments.

CSIR Executive Director Dr Cornelius Ruiters congratulated Dr Grobler and the two finalists. "The Murray & Roberts family and the CSIR congratulate Dr Grobler for her sterling research work in this complex field, as well as Komba and Masindi for their contributions in the road design and water environments, respectively," he said.

"The research presented was world-class and demonstrates the depth of research talent we have in South Africa," says Andrew Skudder, Sustainability Director at Murray & Roberts and member of the adjudication panel.

The annual JD Roberts Award, a partnership between Murray & Roberts and the CSIR, recognises the significant contribution made by researchers to improving global competitiveness of South African industry.

Instituted by Murray & Roberts in 1980 in remembrance of one of the group's founding fathers, Dr JD 'Douglas' Roberts, the award recognises and encourages scientific research into technology that promotes environmentally-sustainable solutions to human living environment challenges.

The finalists' research presentations are adjudicated based on the relevance and potential improvement to people's quality of life; the innovation, uniqueness and distinction of the work; the potential uptake and practicality of the research in the relevant sector and the potential impact of the research.

Dr Ruiters added that the partnership between the two organisations illustrates the beneficial relationship achieved when industrial research meets the needs of engineering and construction services. "We are committed to our partnership," he concluded.